The Hogansville Hummingbird Festival - Midwest Georgia's Favorite Fall Festival
"The City of Friendly People" invites you to the annual Hogansville Hummingbird Festival, held the third weekend of every October in historic downtown Hogansville, GA.
Our Main Street will be bustling with food, crafts, antiques, music, local artists, open storefronts, rides, and activities for the whole family.
Two days of old-fashioned family fun! Includes free parking, shuttles, handicap access, ample security, and kids play area. Vendors and sponsors are welcome!
---
2012 Poster Design
Until we have a 2013 design in place, we will continue to celebrate our 2012 Hummingbird Festival poster design. Artist Andrea Mulvaney, from Newnan, GA had the winning submission to a design contest, and artist/designer Leah Leidner created the full poster design (as well as the related t-shirt, promotional materials, and guidebook). Thank you Andrea and Leah!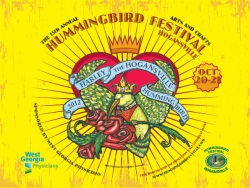 ---
Connect with Us!
---
Festival-Related
Forms and Documents

2013 Hogansville Hummingbird Festival Season
2013 Festival Weekend: Saturday and Sunday, October 19-20, 2013
Charity Dinner, Dance, and Silent Auction, Thursday October 17, 2013
To be announced: Golf Tournament, Poker Tournament, Beauty Pageant
---
Information for Vendors
The Hummingbird Festival takes pride in having a well balanced, diverse, and high quality group of vendors offering quality goods that cannot be found just anywhere. Many vendors choose to come back year after year, but we are always interested in meeting new people who are interested in the Hummingbird Festival.
Please visit our Hogansville Hummingbird Festival vendor information page for more information. Be sure to also find us and Like us on Facebook. We try to cross-link on Facebook to as many vendors as we can during the lead-up to the festival.
---

Created with Admarket's flickrSLiDR.
Check out the full collection of
Hummingbird Festival photos on Flickr.