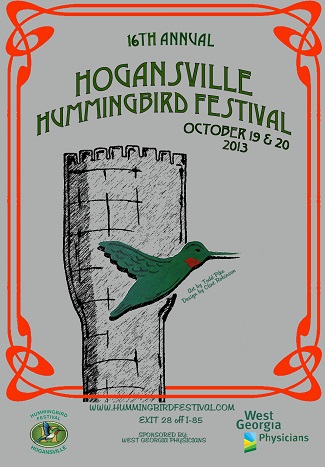 The Hogansville Hummingbird Festival - Midwest Georgia's Favorite Fall Festival
"The City of Friendly People" invites you to the annual Hogansville Hummingbird Festival, held the third weekend of every October in historic downtown Hogansville, GA.
Our Main Street will be bustling with food, crafts, antiques, music, local artists, open storefronts, rides, and activities for the whole family.
Two days of old-fashioned family fun! Includes free parking, shuttles, handicap access, ample security, and kids play area. Vendors and sponsors are welcome!
---
2013 Festival Poster Design
We are proud of the new 2013 Hummingbird Festival poster and t-shirt designs. Thank you and congratulations to Hogansville artist Todd Pike, who painted the original tower and hummingbird painting, and to Clint Robinson, who designed the poster and t-shirt based on Todd's painting.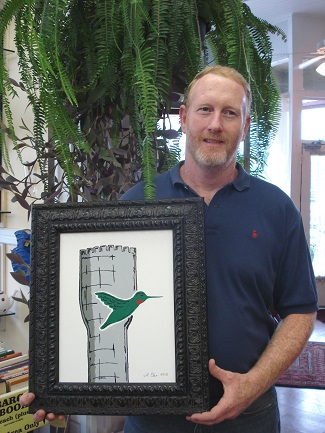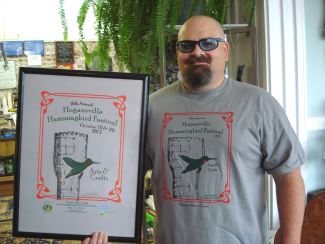 ---
Connect with Us!
---
Festival-Related
Forms and Documents

2014 Hogansville Hummingbird Festival Season
| | |
| --- | --- |
| Sat/Sun October 18 & 19 | Festival Weekend! In historic downtown Hogansville, GA, featuring 200 vendors, food court, live music, kids area, artisan crafts, and more. |
| Thursday, October 16 | Two days before the festival, the annual Dinner, Dance, and Silent Auction is held at the Victoria Belle Mansion. Beautiful setting, chef-catered buffet-style dining, music, and lots of fun. Everyone is welcome. For tickets and information, please call Mary Stewart at 706-333-2520. |
| Date to be announced | Usually one week before the festival, the second annual Charity Poker Tournament, hosted at Hawg Heaven BBQ, . Tournament operated by Aces and Eights Poker. Sign up at the event. Click here for more info. |
| Date to be announced | The 6th Annual Golf Tournament at Hogansville Golf Club, - Click here for more information about the Hummingbird Festival golf tournament. Click here to download a registration form (Adobe PDF file). |
| Date to be announced | Third year! As a kickoff to festival season, the Miss Hummingbird Festival Pageant will be held . This pageant is a preliminary competition for the Miss Georgia and Miss America pageants. Congratulations to Kelly Donoghue, 2014 Miss Hummingbird Festival, and Ashton Leddon, Miss Hummingbird Festival's Outsanding Teen. More info. |
---
Partner Sponsor
Information for Vendors
The Hummingbird Festival takes pride in having a well balanced, diverse, and high quality group of vendors offering quality goods that cannot be found just anywhere. Many vendors choose to come back year after year, but we are always interested in meeting new people who are interested in the Hummingbird Festival.
Please visit our Hogansville Hummingbird Festival vendor information page for more information. Be sure to also find us and Like us on Facebook. We try to cross-link on Facebook to as many vendors as we can during the lead-up to the festival.
---
Thank You Sponsors and Volunteers
The Hummingbird Festival is a 100% volunteer-driven, community-supported fundraiser for the Hogansville Charitable Trust, a registered non-profit entity that supports Hogansville community improvement projects and programs. As you can see on our Festival Sponsors Page, we are proud to have the support of many businesses, organizations, and individuals, large and small.
The volunteer efforts of dozens of people from the Hogansville community, combined with the funds raised throughout the festival season, combine to create real leverage for the Hogansville Charitible Trust to do good for the City of Friendly People. Click here to download a 'sponsor fact sheet' (PDF file) and find out how you or your organization can be part of the Hogansville Hummingbird Festival!
We always need volunteers! For jobs small, medium, and larg--before, during, and after the festival. Something as simple as helping out in the food court for a couple hours or driving the parking shuttle bus can make a big difference. For more information call Mary Stewart at 706-333-2520.
---
Photo Slideshow from Flickr

Created with Admarket's flickrSLiDR.
Check out the full collection of
Hummingbird Festival photos on Flickr.